The year was 1989. I was just entering tenth grade. Most of my friends were boys. They made relentless fun of the New Kids on the Block and listened to hair metal. As a result, I completely missed out on crushing on Jordan or Donnie (were those the ones people crushed on?) Instead, I wanted to have babies with Joe Perry (of Aerosmith) and my room was littered with pictures of Lita Ford and Jon Bon Jovi. I honestly don't feel like I missed out on much.
Flash forward twenty-three years. I went to the Half-Price Books down the street and picked up a grab bag of comic books for three bucks for my boys. I'm trying to get them started right. The front showed an old Batman comic and the back revealed Ninja High School, which sounds like an awesome comic. And school. I picked the boys (who are six and nine) up from their own school and showed them the treasure. There were ten comics just waiting to be discovered inside this beautiful, and cheap, grab bag. So we cracked it open and started divvying the comics up.
Stuck between two copies of X Factor, I found this: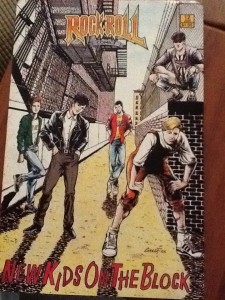 My kids said things like "what's this?" and "is it cool?"
The first I could answer. New Kids on the Block were a popular boy band from the late eighties and early nineties. Mark Wahlberg's older brother was in the band. This must have been a comic that banked on the popularity of the band.
The second question was harder. Was this a cool comic? I started thumbing threw it, trying to remember what I could about the band I barely paid any attention to. They had some songs I thought I knew and a quick google search turned up gems like Hangin' Tough and The Right Stuff. Seriously, go watch that video, especially if you loved them when you were a kid, and tell me it's not one of the funniest things you've seen today.
The comic itself has gems like "Yeah! Hang tough, and as long as you love us … We'll be loving you forever!" and a section called "New Kids on the Rag." I'm just not sure what they meant by that, but in that section, it says "Hey Look! It's the new fags on the block. What a bunch of poseurs!" The comic seems to outline their rise to fame, but there's a mocking undertone to it, so I'm not sure if it's cool or not.
I'm putting the comic in my own collection. Even though I wasn't a fan of the group and I can't figure out the point of the comic, it's still something that does make me remember my childhood. The part where I made fun of anything that was cool and popular and mainstream. Funny how things don't change.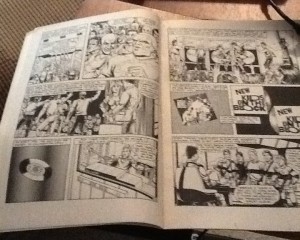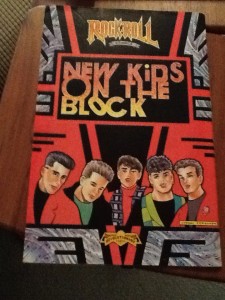 Were you a fan of NKotB? Were you like me, and too cool for them? Or are you eighteen years old and have no idea who New Kids on the Block are. Oh God, I'm old.