Every Thursday night, I go to Gamelot in San Antonio and play board games with some of the coolest cats around. This article will give a quick update on the games I played and what I thought of them. They are ranked in the order of enjoyment with #1 being my favorite from that night.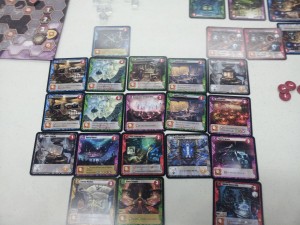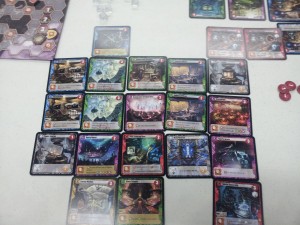 1. Among the Stars Among the Stars is a relatively new game that was released in 2012. It's a ship building card game in which players earn victory points by placing cards in front of them. Each card does something different and some have requirements or victory point bonuses if certain conditions are met. All cards have a cost requirement and money is not unlimited, so there's a strategy in how to spend and when to discard for extra money. It's a very fun game and I'm not just saying that because I smoked everyone else. My strategy involved trying to get as many of the objective bonus cards as possible and taking very high point cards that gave immediate points. I also chose a character that allowed me to replace special cards with the unused special cards, in order to maximize my points or remove a card my hand if I thought it would benefit someone else too much. I didn't go for many of the cards that gave points at the end. In fact, I only got 10 bonus points, where as the person who came in second had 22 at the end, and he still couldn't catch me. Take the lead early and build on it as quickly as possible was my strategy and it paid off well. It was my favorite game of the night.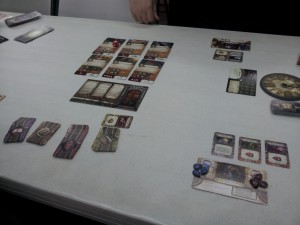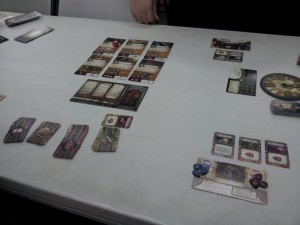 2. Elder Sign Elder Sign is a cooperative dice rolling game in which players work together to defeat a big, bad, evil monster that is dead set on devouring the world. Players have to defeat the monster by collecting a certain number of Elder Signs, awarded as rewards for completing quests, before the monster reaches the end of their Doom Track. Each player chooses a character with a special ability. I chose Amanda Sharpe. Her ability involves being able to complete as many tasks as she wants without having to reroll the dice. This is a useful ability when quests come up that have a lot of separate tasks but not many dice are needed for each task. In our play through of the game, though, I didn't get to use it that much. We played a three player game and drew Azazoth as our big baddie. Early on, he got a lot of doom tokens and we had very few Elder Signs, so it didn't look good for us, but then we had Rlyeh come out (which is worth a lot of Elder signs), and we ended up defeating the beast. Elder Sign was released in 2011, so it has some age on it, but still feels fresh and new for anyone who hasn't played it much. I really love this game and the only reason it wasn't my favorite play of the night was because I have some familiarity with it and Among the Stars was brand new to me (and I won Among the Stars…)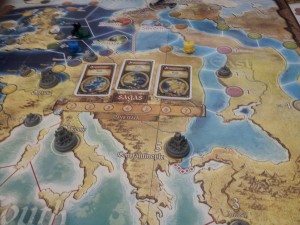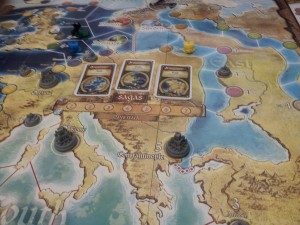 3. Fire & Axe: A Viking Saga Fire & Axe, released in 2004, allows players to become vikings in a quest for victory points. Players do this by trading, placing settlers, and raiding cities throughout Europe. The whole objective of the game is to complete Saga cards. These randomly come out of a Saga card deck (split into three eras) and have some kind of goal on them, such as settling certain groups of cities (or a lone distant city) or trading with a city. The game ends when all the Saga cards are drawn (after three rounds) or all the Saga cards are claimed (thus immediately ending the game.) The interesting thing with these goals is that only the last goal in a group counts, so a player can be working on a goal, such as settling three cities, and get two settled with their pieces only to have another player swoop in and settle the last city, claiming the Saga. Some of the Saga cards had bonus points, but most of the victory points come from points immediately earned for trading with a city, points gained by raiding towns (with tokens on them), and points accumulated for settling. There were some interesting bonus point rules that made the game more complicated and was often hard to keep track of. In the end, I came in third, and that was only because I managed to steal a couple of Sagas with high bonus points on them out from under the leader, who really killed the rest of us at the end. Of course, he was also the only one who had played before. I didn't really enjoy this game as much as the other two and given the choice, there are a lot of other games I'd rather play.
Do you agree or disagree with my opinions of these games? Please leave comments and let me know your thoughts! Do you have a game you would like me to play and give my thoughts on? Please let me know that as well. Thanks for reading!