0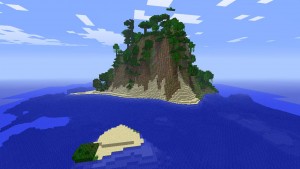 Written By: John
Minecraft is a very popular game today with more than 20 million registered users. Everyday that number grows by about ten thousand. The most likely reason the game has grown big so quickly is that it pretty much breaks every "rule" a normal game has. There are no missions. You are set in a world where you can do whatever you like. Climb hilltops, dig tunnels underground, or build a nice house by the water. Ā Everything is up to you - the player.
One thing that also sets Minecraft apart from other new games is its graphics. Some would say they are terrible while others would say itā€™s terrific because of its nostalgic old school look. Each and every texture in the game has a pixeled surface to it which really brings back memories of games like Super Mario and so forth. In case you are not that fond of this old school graphics, there are texture packages that will modify the way the game looks to your liking.
Minecraft can be played in single player mode or together with others online. Today, there are thousands of different Minecraft servers to choose from and sometimes it can be hard to figure out which to pick. A solution for that would be visiting MinePick Servers List. There you can find many different servers to choose from and each server has a description you can read to get a better understanding of what it is about. All servers in the server list are ranked based on how many votes they have. This is to make sure only the most popular ones are listed in the top and are the ones you will notice at first.
This is a great game to play together with your friends. Everything really comes down to teamwork while playing and itā€™s very rare to feel any anger or frustration, as you may feel in other games, because in Minecraft thereā€™s usually no hurry to achieve something or get to some place. Everything can be done at your own pace.
All you need to be able to play on different Minecraft servers is a copy of the game. Itā€™s purchased over at Minecraftā€™s own official website. It costs as little as 19.95 euro or $26.95 US and all updates are free. There is no monthly fee. There will most likely be no sequels of the game, meaning for that little money you will have a Minecraft account for all eternity.
You can skip to the end and leave a response. Pinging is currently not allowed.