Okay, I admit it. I'm a Facebook game snob. I look down on most Facebook games. The few in the past that have captured my attention, like Packrat or The Sims Social, were the exceptions to Facebook games, not the rule.
The times, they are a-changing.
Facebook games are, more and more, stepping out of the Mafia Wars and Farmville mold. It's getting to the point that if it's a game, it CAN be on Facebook. Nothing is proving this fact more than traditional casual games, with titles like AdventureWorld or Hidden Chronicles being very popular. Zynga Slingo is another of those games.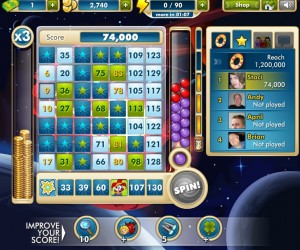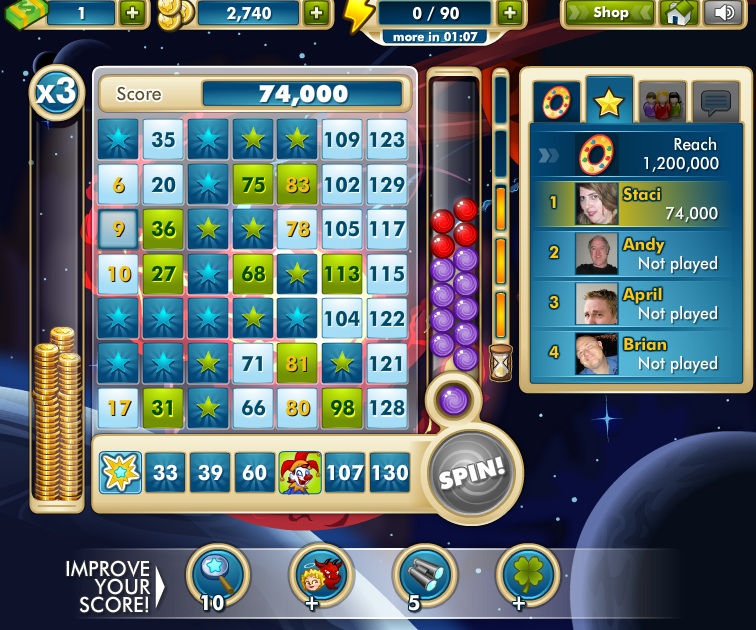 For those not familiar with Slingo, it essentially combines Bingo (which I do play IRL) and Slots (which I do play IRL.) There's a limited number of spins and players have to fill up a card of numbers by spinning slot reels for those numbers. There's a variety of power-ups that will help fill the board, like one that marks everything in a line or wild jokers that will allow the marking of anything in a line (or my favorite one, anywhere on the board.) Objectives include completing a pattern, achieving certain high scores and filling a complete card.
Zynga Slingo takes all the best parts of Slingo and puts them on Facebook. It adds in help from friends and a limiting element. And all that comes together into a very addictive game. I feel like I can never get enough. I bought a full day's worth of energy (something you can do with Slingo Cash, which you can purchase with real life money or earn by completing various offers) and thought by the time that day was over, I'd be done with my addiction and be able to move onto something else. I was wrong. If anything, I'm more addicted now.
Players start out with basic boards and a small amount of energy, and as they complete objectives, they will gain medals. These medals are essentially the leveling system. I currently have 226 and am number one on my friends list! *gloat off* To play a board, it requires energy and energy replenishes automatically, one every three and a half minutes. Energy can also be purchased in small increments or unlimited supplies for a limited time.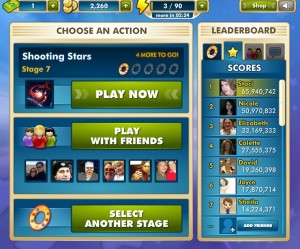 There's a certain number of free balls a player gets when they purchase the board (using energy) and when those balls are gone, four extra balls that can be bought for two energy each. After that, players may have free balls they can use or they can purchase additional balls, either by spending coins, which are gained by filling up the coin bar, or by spending Slingo Cash. They can also spam all their friends and ask them to send additional balls (sorry friends!) and that's where the social aspect comes in. Friends can help out by sending coins or balls or energy and players can return the favor.  There's also something called Play With Friends, which is 'coming soon' and I can't wait to see what that ends up being.
Zynga has separated the game into stages, with each stage having nine cards. These stages have unique and interesting artwork. The higher a player goes in stages, the more complicated the cards and patterns get, and the more energy it requires to start the game. Right now, I have six stages unlocked, with titles like Sugar Rush and Shooting Stars. I thought there were only five stages, but when I got to a certain point in the game, Shooting Stars just appeared.
I played the heck out of the Slingo games on the PC, although by the time I got to the last few, they had become tired and worn out. The developers tried to change things up by adding in an adventure element, but it ended up just annoying me. Zynga Slingo takes the Slingo format and puts it on a friendly platform. It hasn't gotten tired yet, probably because I can only play it a limited number of times before I have to stop and wait for my energy to replenish, or choose to spend some money on it.
I need more Zynga Slingo friends. My current friends are great at sending me balls, but in this game, there's no such thing as too many balls. So feel free to friend me for Slingo purposes.
Do you play Zynga Slingo or other Facebook casual games? What keeps you going back to a specific game day after day?