When my brother talked me into installing Popcap's "Plants vs. Zombies," I didn't know what I was getting myself into. He said it was a great intro to tower-defense strategy games. I said the sunflower was cute. He said just play the game. And I did.
And I can't stop!
Plants vs. Zombies is a easy to master but majorly addictive game where you grow plants to defeat the zombies that want to come eat your brains. Since sun is the key to growing plants, the sunflowers (and later the mushroom) are the key to setting up the perfect defense against the zombie hoards. With solar power harvested from the flowers and occasionally from the sun, you can plants that block, shoot, blow up, devour, drown and otherwise destroy the invading zombies. Sounds easy, right?
As they say, it's easy getting started, it's harder to quit.
Graphically, the characters are cute, even the zombies. There are sunflowers that smile, squashes that frown, and even mushrooms that hide. On the Zombie side, there are plain zombies, armored zombies, even zombies that drive Zombonis. The music is great too, never annoying, just enough to set the tone for a showdown with the living-impaired.
And if you ever get tired of killing zombies, or more likely frustrated, there are mini-games that run the gamut of slot-machine plant placement, walnut-bowling, and one that lets you play zombie to the plants. Popcap also gives a nod to its other games with planty versions of Bejeweled and Bejeweled Twist. There's even the no-stress Zen garden where you have a pet snail and feed it chocolate so it collects money for you. And the money is important, because it lets you upgrade your plants from re-peaters to gatling peashooters and from watermelon catapults to icy wintermelons of doom.
There is more than enough goodness in this game for everyone to enjoy. It's addictive fun. The music video at the end is worth the wait, though you can find it on YouTube if you're curious. Overall, just another fabulous game from Popcap.
Shockwave:

Big Fish Games: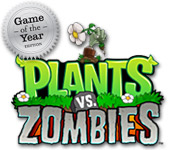 Tweet